When I visited New York back in 2012 for the first time, the city energised me and inspired me in ways that I hadn't really felt before and was the reason I wanted to come back and stay a little longer. I've lived in New York for the past 12 months and feel like I haven't even yet scratched the surface of the city.
Without sounding awfully cliche, everyone here has a story of getting to New York and a reason for being here and that's what makes this hub of nearly 9 million so enthralling, so full of culture and life. It's a city where there's just something for everyone, and that's the just the sort of place that I want to be a part of.
Here's the thing about sitting down to create a guide to New York- this city is what you make of it and can be catered so specifically to you and what you enjoy. It can be the bar that goes all night, the palette of the globe, it can be the sleepy mornings in the park and the chaos of 42nd street. My New York is filled with bookstores and caffeinated afternoons, jazzy nights and musty vintage stores.
You might not find some of these places that I'm about to show you on the top 20 lists, but that's kind of why I love them.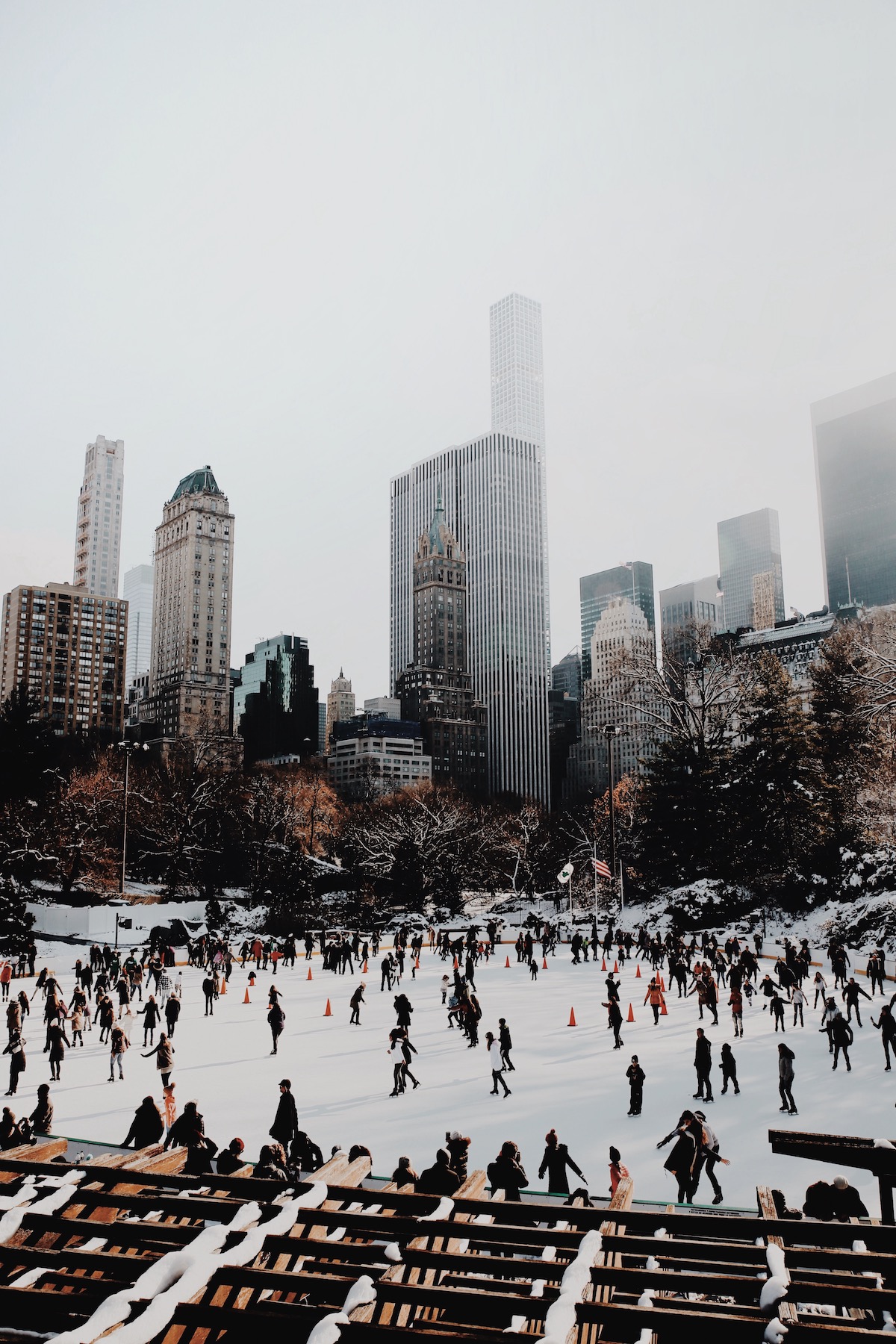 These are the areas I've explored most in New York and I've included my favourites in each. There are a few areas like the Upper East Side and some areas of Brooklyn that I haven't seen as much of, hence why they're not included below!
UPPER WEST SIDE
My first apartment in New York was on the Upper West Side, on 99th and Amsterdam. I love this area because it's got everything you need but still feels like 'coming home' after busy days downtown.
Central Park
I spent almost every weekend and weeknight at Central Park eating dinner by the pond and watching the runaround Theatre shows in the Summer. I've filled countless journals here, run an ungodly amount of times around the Reservoir to only Billy Joel at this Park and had some of the best long chats from 100th street all the way down to 59th here.
My favourite spots are the Turtle Pond, The Boathouse (if it's early enough and the crowds haven't arrived yet), The Great Lawn and The Pool.
Winter here terrifies me because I always manage to slip over too many times, but is worth it for the snow-covered trees and ice skating.
Natural History Museum
I've always loved the Natural History Museum and have been a countless amount of times in the past year. You can donate a chosen amount if you wish and spend a full day or more wandering the halls.
Jacobs Pickles
For real Southern type comfort food, Jacobs pickles is a must. Think buttermilk fried chicken, biscuits and half a dozen type of different pickles to chose from.
509 Amsterdam Ave New York, NY 10024
Jin Ramen
A cosy Japanese spot with rice bowls, ramen, pork buns, beer and sake. Pretty much everything here is bomb and
462 Amsterdam Ave, New York, NY 10024
Peacefood Cafe
A homey spot for raw, vegan, gluten-free comfort food. Don't pass on dessert.
460 Amsterdam Ave, New York, NY 10024
Blossom
My favourite vegan restaurant in the city with pavement seating for the ultimate Summer people watching session. Try the buffalo tempeh, it's unreal.
507 Columbus Ave, New York, NY 10024
The Mermaid Inn
All American seafood known for their Lobster rolls. I love this place for a group dinner in a cosy setting.
570 Amsterdam Ave, New York, NY 10024
Spring Natural Kitchen
I love this place because it makes everyone happy and serves up hearty, healthy dishes.
474 Columbus Ave, New York, NY 10024
Locations
BOOKS & STORES
Book Culture on Columbus
My absolute favourite book-store in the city, I could pretty much spend hours in here looking at their selection.
450 Columbus Ave, New York, NY 10024
Westside Rare & Used Books
An amazing find which feels a bit like Hogwarts
2246 Broadway, New York, NY 10024
Magpie
A petite gift store on the Upper West Side. If you're looking for gifts or even unique things to bring home from New York, this is the place. They carry a range of locally made gifts, stationery, home decor and accessories.
488 Amsterdam Ave, New York, NY 10024
BREW
Irving Farm Coffee Roasters
Great for a morning coffee & scrambled egg biscuit sandwich.
224 W 79th St, New York, NY 10024
Birch Coffee
A simple spot near the 96th st station for a takeaway coffee to bring with you for a walk in the park.
50 Columbus Ave, New York, NY 10025
Birdbath Bakery
Where coffee meets pastry heaven
518 Columbus Ave, New York, NY 10024
HARLEM & THE HEIGHTS
My second apartment in New York was up here in Harlem and I love exploring this area. There's a bunch of new spots that have opened up but plenty of Harlem classics that still remain.
JAZZ
Bills Place Harlem
A no-frills jazz bar with shows on Friday and Saturdays, home of Jazz player Bill Saxton. Bill's place serves up nothing but Jazz and is a Harlem gem. Get your tickets online to reserve a spot as the parlour is small and cosy. Tickets are $20 for an hour and a half show, with an early evening session at 8 and a late session at 10. BYO Alcohol.
148 W 133rd St, New York, NY 10030
BREW
Manhattanville
My friendly and spacious coffee spot which is always a great place to get some work done.
142 Edgecombe Ave, New York, NY 10030
The Chipped Cup
The Chipped Cup has always reminded me of Central Perk from Friends. It's an underground coffee spot that's intimate in the Winter, but boasts the perfect outdoor backyard for the Summer and is the most ideal place to enjoy a cuppa coffee and a pastry.
3610 Broadway, New York, NY 10031
Filtered
Another little coffee store with street front bar seating and a cosy location to get some work done.
1616 Amsterdam Ave, New York, NY 10031
Levain Bakery
The world's greatest chocolate chip cookie.
2167 Frederick Douglass Blvd.
New York, NY 10026
Locations
EAT
Ramen ROKC
I've got a thing for cosy ramen bars but ROKC is truly a gem in the city. Get there early and don't pass up on a cocktail. Their unique creations like Truffle with vodka, truffle honey, muscat, grapefruit and parmigiana reggiano, or the Grapefruit cocktail- a concoction of mezcal, elderflower, grapefruit, lime and palo santo wood.
Go between 5pm and 7pm for $1.50 Happy Hour oysters.
3452 Broadway, New York, NY 10031
OSO
An innovative Mexican restaurant in Hamilton Heights, with great cocktails, tacos and interiors.
1618 Amsterdam Ave, New York, NY 10031
Syliva's
A Harlem institue, Syliva's has been serving up home-cooked soul food for over 55 years. This icon remains a culinary must-visit for foodies.
328 Malcolm X Blvd, New York, NY 10027
La Esquina Midtown
My favourite Mexican spot in the city and the perfect place to grab a bite before a show.
200 W 55th St, New York, NY 10019
BEA Bar
Intimate, brick-walled eatery & bar with handcrafted cocktails, eclectic small plates & a courtyard.
403 W 43rd St, New York, NY 10036
Refinery Rooftop
Great food, dramatic views, away from the craze of Midtown.
63 W 38th St, New York, NY 10018
Trestle on Tenth
Quaint brick wall and wood-heavy hideaway for hearty Swiss-American cuisine. Go for a late night drink at the bar.
242 10th Ave, New York, NY 10001
Gallow Green
Home to Sleep No More, the McKittrick Hotel is full of quirk and luscious spaces. In the Summer, the roof-top Garden is a getaway from the bustle and has a great weekend Brunch menu and in Winter, the space has been redecorated as a Lodge, with comfort food and drinks to match. Make no mistake though, this isn't actually a hotel.
401 W 25th St, New York, NY 10001
Citizens of Chelsea
An Aussie owned cafe that always delivers an amazing latte. The duck benny doesn't disappoint.
401 W 25th St, New York, NY 10001
Thai Villa
Traditional Thai in a trendy setting.
5 E 19th St, New York, NY 10003
Caferia
Upscale & exceptional American comfort food. Open 24 hours but not tacky like it sounds.
1802, 119 7th Ave S, New York, NY 10011
TO DO
The Whitney Museum
My favourite art museum in the city.
The High Line
The High Line is a 1.45-mile-long elevated linear park, greenway and rail trail created on a former New York Central Railroad spur on the west side of Manhattan. The High Line gets jam packed with tourists, especially in the Summer so my best recommendation is to get up super early and grab a takeaway coffee from Citizens of Chelsea nearby to stroll enjoy the High Line bright and early & without the crowds.
EAT
The Spotted Pig
The best gastropub in the city (in my humble opinion)
314 W 11th St, New York, NY 10014
Tacombi
With 5 locations, Tacombi is a great spot for downtown Mexican and margaritas in a rustic, warehouse setting.
Westville
I love Westville for their sides which are always bomb. Whether for breakfast, lunch or dinner, Westville is a reliable go-to with tonnes of healthy options.
210 W 10th St, New York, NY 10014
Dante
A Legendary circa-1915 cafe that's a New York landmark. Come for the drinks.
79-81 Macdougal St, New York, NY 10012
BREW
Grounded Organic Coffee & Tea House
I had the best sweet potato soup I've ever had here recently. This unique coffee spot is tucked away in the heart of the West Village and is filled with plants and eclectic seating and has an extensive drinks menu. It can get busy though, so try and go early if you're looking for a laid-back vibe.
1919, 28 Jane St, New York, NY 10014
Toby's Estate
An Aussie coffee joint that makes home feel a little closer.
44 Charles St, New York, NY 10014
ad hoc collective | coffee + shoppe  
A small basement coffee bar and store.
13 Christopher St, New York, NY 10014
The Uncommons
A cafe where you can spend hours playing from their selection of hundreds of boardgames & card games.
230 Thompson St, New York, NY 10012
Three Lives & Company
A snug little bookstore that's been around since 1968.
154 W 10th St, New York, NY 10014
Bookmarc
An eclectic selection of coffee table & art books.
400 Bleecker St, New York, NY 10014
SOHO, TRIBECA & THE LOWER EAST SIDE
EAT
Hampton Chutney Co
I always find myself starving in Soho after a day of shopping and Hampton Chutney Co is my go-to for filling Indian dosas that are served with your choice of homemade chutney.
143 Grand St, New York, NY 10013
Banter
This Aussie owned cafe has a great breaky menu and brew as well as $8 Happy Hour cocktails from 4pm - 7pm. When I'm missing my side of the world, Banters menu and casual space has me feeling like I'm in Melbourne.
Sweet Chick
Rustic-chic eatery serving up Chicken and Waffles with vegan chicken options too.
178 Ludlow St, New York, NY 10002
Morgensterns
A quirky ice-cream parlour with flavours like burnt sage, banana curry, black coconut ash and sherbet froyo as well as all the classics.
2 Rivington Street NY NY 10002
Petee's Pie Company
You can't go wrong with a piece of homemade pie and a cup of joe here.
61 Delancey St, New York, NY 10002
Nom Wah
Vintage dim sum parlour dating back to 1920.
13 Doyers St, New York, NY 10013
Ramen Lab
A tiny ramen restaurant with 10 bar seats
70 Kenmare St, New York, NY 10012
Mission Chinese
New York outpost of the San Francisco eatery serving fiery, innovative takes on Sichuan cuisine.
171 E Broadway, New York, NY 10002
Spring Natural
Organic food where there's something for everyone. A great open space that's perfect for a long lunch.
98 Kenmare St, New York, NY 10012
BOOKS & STORES
Tictail Market
Tictail has to be one of the most well-curated boutiques in New York. Bringing together independent artists, makers and brands and selling everything from home decor to fashion and gifts, Tictail is a global marketplace.
90 Orchard St, New York, NY 10002
Green Fingers Market
Where all your succulent dreams come true.
5 Rivington St, New York, NY 10002
Mulberry Iconic Magazines
An extensive magazine selection on offer.
188 Mulberry St, New York, NY 10012
BREW
Maman
I always find myself here on a rainy day at their Soho store with a hot cookie and coffee in hand.
Four locations but my favourite is:
211 W Broadway, New York, NY 10013
Happy Bones
A simple little Kiwi owned coffee shop in the big apple.
394 Broome St, New York, NY 10013
Saturdays NYC
Surf & lifestyle shop meets coffee bar. Best in Summer so you can sit in the outdoor garden.
31 Crosby St, New York, NY 10013
Cafe Integral
A cute lil coffee shop with homemade nut mylks.
149 Elizabeth St, New York, NY 10012
Erin McKenna's Bakery NYC
My favourite little bakery in the city creating dairy-free, egg-free, soy-free, gluten-free & agave-sweetened cakes & cookies.
248 Broome St, New York, NY 10002
MUSEUMS
The Tenement Museum
An 1863 preserved tenement building brings Lower East Side immigrant stories to life with guided tours.
103 Orchard Street, New York, NY 10002
WILLIAMSBURG & SURROUNDS
EAT & drink
Butler Bakeshop
Located right underneath the Williamsburg Bridge.
95 South 5th Street, Brooklyn, NY 11249
Maison Premiere
Cocktail & oyster bar.
298 Bedford Ave, Brooklyn, NY 11249
Videology Bar
This low key saloon has a movie screening room and stocked bar so you can sit and enjoy a flick with beer and pub grub in hand.
308 Bedford Ave, Brooklyn, NY 11211
Barcade
Is there actually anything better than a bar where you can play classic video games?
388 Union Ave, Brooklyn, NY 11211
Syndicated Theatre
Syndicated is a movie theatre, bar and restaurant located in Bushwick. They screen new flicks as well as classics
40 Bogart St, Brooklyn, NY 11206
Smorgasborg
A huge foodie market with vintage stalls too.
Every Saturday and Sunday.
10am -5pm in Industry City at 241 37th st in Brooklyn
Black Brick Coffee
A low key, Williamsburg coffee hangout.
Address: 300 Bedford Ave, Brooklyn, NY 11211
Sundays in Brooklyn
Come for the brunch.
348 Wythe Ave, Brooklyn, NY 11249
Champs Diner
Champs is an all vegan diner serving up all the diner classics. Try the Tempeh Buffalo bites.
197 Meserole St, Brooklyn, NY 11206
Milk & Roses
Italian food in a library setting
1110 Manhattan Ave, Brooklyn, NY 11222
Cafe Mogador
During the day, this family-owned Moroccan restaurant is the perfect place to sit with a coffee, and on weekends and evening hosts a busy brunch and dinner crowd. You must try the hummus and the halloumi eggs.
There are two locations, on in Brooklyn and one in Manhattan but my favourite is the Williamsburg one.
133 Wythe Ave, Brooklyn, NY 11249
Pies and Thighs
The name says it all. Make sure to leave room for dessert because the banana cream pie is everything.
166 S 4th St, Brooklyn, NY 11211
Little Choc Apothecary
Homey little cafe for sweet & savory vegan crêpes!
141 Havemeyer St, Brooklyn, NY 11211
Stella Dallas Vintage
Stella Dallas is my favourite vintage stop. With a home store located right next to the clothing store, there's endless racks to explore in this perfectly curated Vintage collection.
166 S 4th St, Brooklyn, NY 11211
Other Times Vintage
48 Bogart St, Brooklyn, NY 11206
133 Wythe Ave, Brooklyn, NY 11249
Red Pearl
A whimisical gift boutique
200 Bedford Ave, Brooklyn, NY 11249
Quimbys books
A quaint and eclectic little bookstore
536 Metropolitan Ave, Brooklyn, NY 11211